Rajasthan Patrika Ujjain Newspaper Advertisement Online Booking
Rajasthan Patrika Ujjain Newspaper Advertisement Online Booking
---
Ujjain

AD BOOKING
---
No.1 Hindi daily of MP

Readership over 12m
8states - 35editions
Best print ad platform
Select Your Ad Format :
Simple text format of advertisements charged on the basis of the number of words, lines or characters used in the ad matter. Enhancements like a tick, border, color, and bold fonts can be used in this pocket-friendly and economical form of advertisement.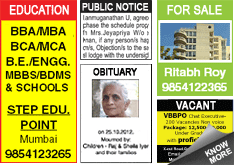 A better way to exhibit advertisements in newspapers which include catchy graphics, image, logo, colour, fancy font making ads more visible to the readers. This great way of advertisement that helps the advertisers to grab the attention of the target audiences is changed on the basis of per sq.cm unit.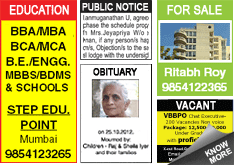 ---
Select Your Category For Rajasthan Patrika Classifieds below :
SELECT AD CATEGORY
---
Want to advertise in specific Rajasthan Patrika Ujjain Supplements ?
SELECT A NEWSPAPER SECTION TO ADVERTISE IN
---
---
Ujjain Edition covers the following areas:
EDITION COVERAGE
---
Advertisement Section
Publishing Days
Booking Deadline
Rajasthan Patrika Ujjain
All Days
2 day(s) Prior
Ad Categories: Matrimonial, Property, Recruitment, Public Notice, Obituary, Education etc.
Frequently Asked Questions
FAQ
---
Why advertise in Rajasthan Patrika Ujjain
WHY ADVERTISE AD IN
Rajasthan Patrika Ujjain

?
---
Ujjain is a multicultural Ujjain in the newest Indian State of Telangana. Once the northern border of the Nizam's estate, today Ujjain serves as a hub for cotton mills and a centre for education in the state. Being a centre of trade and commerce in northern Telangana, Ujjain needs to advertise. Classified advertising is the best way to let your target population know about your business. releaseMyAd is an ace ad agency in Ujjain that understands the thirst for Rajasthan Patrika classified advertising in the Ujjain.
Booking classified ads in Rajasthan Patrika of Ujjain with releaseMyAd has got a lot of advantages. Some of them are listed below:
Instant 3 step classified ad booking in top newspapers of Ujjain .
Book ads in any category you want and get the lowest ad rates in Ujjain for Rajasthan Patrika classifieds booking.
Avail our secured multiple online payment options. We also have several offline payment options like cheques and demand drafts.
Book your Rajasthan Patrika Ujjain advertisement Now !
View Rajasthan Patrika Ad Rates for Ujjain:
ADVERTISEMENT RATE
---
| S. No | Ad Section | Publishing Days | Ad Rate Starting From | |
| --- | --- | --- | --- | --- |